Introduction
Do you feel overburdened, stressed out, or emotionally detached? Whether you're going through a hard breakup or need more love and support. Whatever the circumstance, Rose Quartz Stone is what you need to heal! We know that living in the modern world can be difficult and that there are many diversions and demands on our time. But, ignoring our emotional health can result in various physical and mental health problems.
Rose quartz stone can help in this situation. The "stone of love" is a gorgeous pink stone with strong emotional and heart-related healing powers. Rose quartz crystal can assist you in getting in touch with your true self and discovering the inner serenity and balance you need to thrive, whether you're dealing with heartbreak, going through anxiety or despair, or needing additional love and support. This blog post will explore incredible rose quartz benefits, meaning, and properties.
Rose Quartz Meaning
Rose Quartz is a light rose pink kind of quartz. It is also known as Hyaline Quartz. It has a pale pink hue, translucent transparency, and a vitreous sheen. It likewise has a hexagonal crystal structure and belongs to the mineral class quartz. It has been used since ancient, with the Greeks and Romans employing it in jewelry and carving figurines. Rose Quartz represents love and compassion. Brazil, India, Japan, and the United States are just a few places where rose quartz stone has been discovered. It is a crystal of global and unconditional love.
The pink color of rose quartz has a significant bearing on its meaning. Pink is a color that stands for kindness, peace, femininity, empathy, and love. Its delicate energy fosters and rekindles connections, providing happiness, passion, and pleasure. The gentle allure and peaceful tint have a calming impact on the body and psyche. Rose quartz is ideal for people who want to restore peace and equilibrium in their relationships. It assists us in identifying both our own and other people's needs. If you can't keep it nearby, having it somewhere simple to get to is a good idea so you can look at it frequently.
Rose Quartz Benefits and Healing Properties:
Rose quartz crystal, a stunning stone with pink hues, has long been valued for its exceptional healing properties. It is referred to as the "Stone of Unconditional Love," and those who possess it are thought to experience harmony, love, and emotional well-being. It has been used for ages for its emotional and spiritual benefits. It is believed to aid in opening the heart chakra and encourage sentiments of love for oneself and others. Rose quartz stone is still famous for jewelry and spiritual rituals today, as its soothing energy resonates with people worldwide. In this blog, we'll explore how rose quartz can change your life by delving into its emotional, physical, and metaphysical healing properties.
Emotional Healing Properties
Rose quartz is well-known for its profound effect on an individual's emotional well-being. For generations, people have sought the peaceful energy of rose quartz to assist them in managing the intricacies of love, relationships, self-acceptance, and self-confidence. In this blog post, we will look at the emotional healing capabilities of rose quartz and how this unique crystal may help you alter your emotional well-being. It can assist you in letting go of unpleasant feelings like rage, jealousy, and resentment and replacing them with empathy, compassion, and forgiveness.
Encouraging Self-Love and Self-Acceptance
One of rose quartz's most crucial emotional healing properties is its capacity to foster self-love and self-acceptance. The peaceful energy of the crystal encourages people to acknowledge their worth, accept their flaws, and develop a more profound feeling of compassion and confidence for themselves. Rose quartz promotes self-love, a basis for emotional stability and personal growth.
Improving Relationships and Attracting Love
Rose quartz is also known for its capacity to strengthen and enhance romantic and platonic relationships. Its loving energy encourages empathy, understanding, and trust among people, allowing for deeper connections and more peaceful interactions. Furthermore, rose quartz is thought to bring more love into your life by radiating positive energy and opening your heart to new partnerships. Wearing a relationship bracelet infused with rose quartz can serve as a constant reminder to cherish and nurture the bonds with your loved ones, fostering a strong and enduring connection.
Reducing Stress, Anxiety, and Anger
Rose quartz is thought to have a calming impact on the mind, aiding in the relief of tension, anxiety, and sentiments of wrath or resentment. Rose quartz can help you release negative emotions and embrace a more tranquil, calm state of mind by encouraging emotional equilibrium. This emotional healing can significantly impact a person's mental health and well-being.
Encourages Forgiveness and Emotional Release
One of the essential aspects of rose quartz benefits is its capacity to encourage forgiveness towards oneself and others. Hanging on to previous traumas, grudges, or feelings of guilt can lead to emotional obstacles that hinder personal progress and happiness. Rose quartz fosters understanding, forgiveness, and emotional freedom by assisting in the release of negative emotions.
Building Emotional Resilience
Rose quartz's soothing, supporting energy can also assist in building emotional resilience, allowing people to cope better with life's obstacles and failures. Rose quartz gives a strong foundation for emotional strength and flexibility by developing self-love, compassion, and emotional balance, allowing one to handle life's ups and downs with grace and optimism.
Physical Healing Properties:
Rose quartz color has captured the attention of many for centuries because of its beauty and healing properties. Rose quartz is renowned for its abilities for emotional healing, but it is also said to possess several other physical healing properties. Many people continue to claim wonderful experiences when adding this lovely stone into their life, even though the physical healing abilities of rose quartz crystals are not scientifically established. Rose quartz's numerous physical benefits of rose quartz include promoting heart health, boosting the immune system, and reducing pain. Consider learning more about rose quartz and its potential healing benefits if you seek a natural way to support your overall health and well-being.
Supporting Heart Health
One of the most notable physical healing effects attributed to rose quartz is its ability to enhance heart health. As a crystal associated with love and compassion, it promotes emotional balance and stress reduction, which can benefit heart health. Many crystal healers use rose quartz to promote better circulation and general heart function.
Boosting the Immune System
Rose quartz's soothing energy is claimed to help strengthen the immune system's functionality, which protects our bodies from infections, illnesses, and other health difficulties. Rose quartz helps a more robust immune system by lowering stress, increasing mental well-being, assisting recovery from diseases, and preserving overall health. Moreover, it improves circulation, making it a valuable addition to any wellness program.
Assisting with Sleep and Relaxation
Rose quartz is frequently used by people to aid in relaxing and boost the quality of their sleep. The crystal's relaxing energy promotes peace and tranquillity by lowering tension, anxiety, and negative emotions. You might experience a more refreshing and pleasant night's sleep if you place a piece of rose quartz close to your bed or under your pillow.
Metaphysical Healing Properties:
Rose quartz crystal's metaphysical healing properties are a valuable addition for anyone seeking spiritual development and stronger relationships with others. Adopting this potent stone allows you to feel more love, compassion, and harmony on your spiritual journey. It is an effective tool for people who want to heal emotional wounds and open their hearts to new experiences.
Balancing the Heart Chakra
One of the most well-known rose quartz's metaphysical healing benefits is its ability to balance the heart chakra. Love, compassion, and emotional health are all governed by the heart chakra, which is situated in the center of the chest. Rose quartz is thought to help open and balance the heart chakra, which promotes emotional harmony, self-love, and the ability to give and receive love unconditionally.
Enhancing Spiritual Growth
Rose quartz is also known to encourage self-awareness, inner tranquility, and spiritual development. Rose quartz can support people on their spiritual journey by encouraging self-acceptance and fostering a better understanding of oneself. Its calming, caring energy aids in personal transformation by assisting one in letting go of outdated patterns, routines, and beliefs.
Attracting Love and Positive Relationships
Rose quartz is frequently used in metaphysical healing to attract love and positive relationships. Its unconditional loving energy can assist in attracting new relationships, deepening current ones, and healing previous heartbreaks. Rose quartz can help you develop deep, lasting connections with others by boosting forgiveness, trust, and understanding.
Using Rose Quartz For Crystal Healing
In Jewelry
When worn as a pendant close to the heart, rose quartz maximizes its love energy and is a powerful tool for improving relationships in various ways. Rose quartz crystal bracelets and rings are popular choices because they keep the stone close to your skin, so you may take benefit of its calming qualities and bring abundant love and joy into your life all day. You can also borwse our Rose Quartz Bracelets collection.
In Meditation and Energy Healing
During meditation, holding a rose quartz crystal in your hand or placing it next to your heart can help you feel your emotions more intensely, stimulate self-love, and foster feelings of compassion and forgiveness. Place rose quartz on the heart chakra during energy healing sessions to help balance and harmonize the energy flow, encouraging emotional healing and spiritual development. Rose Quartz can enhance its healing abilities and assist in manifesting particular intentions, such as attracting love, promoting self-care, or strengthening emotional bonds with others.
For Home Decor and Placement Tips
Put rose quartz in the bedroom to increase loving energy, soothe moods, and improve sleep quality. Set a rose quartz cluster on a nightstand or dresser to create a relaxing ambiance. The rose quartz in the living room can help promote harmony and constructive conversation among family members and guests. Try putting it near seating areas or as a centerpiece on a coffee table.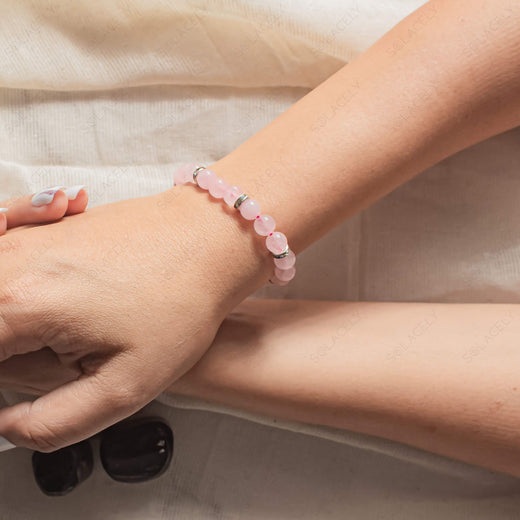 Regular price
₹715
Sale price
₹520
Unit price
per
Sale
Sold out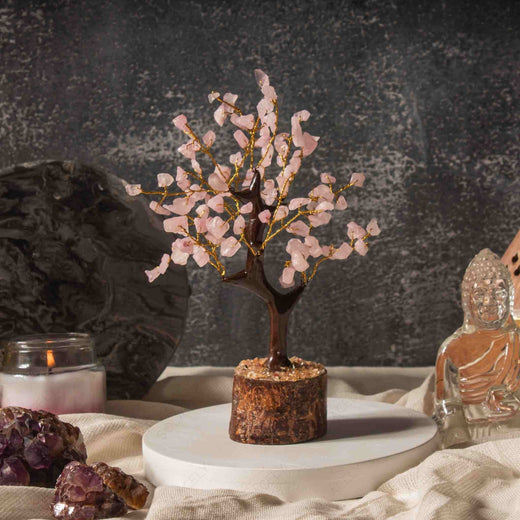 Regular price
₹650
Sale price
₹481
Unit price
per
Sale
Sold out
Regular price
₹520
Sale price
₹511
Unit price
per
Sale
Sold out
Regular price
₹585
Sale price
₹455
Unit price
per
Sale
Sold out
Regular price
₹650
Sale price
₹520
Unit price
per
Sale
Sold out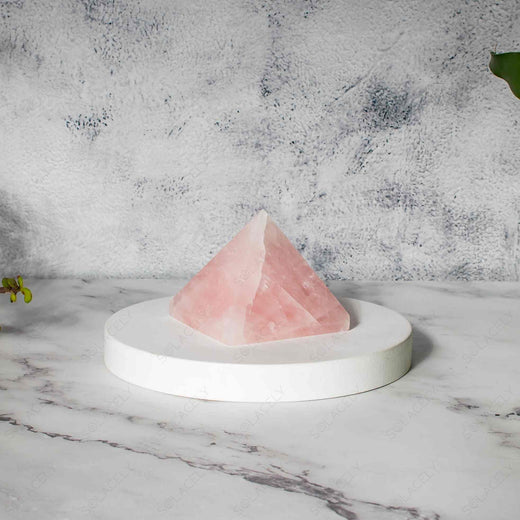 Regular price
₹2,730
Sale price
₹2,210
Unit price
per
Sale
Sold out
Regular price
₹449
Sale price
₹391
Unit price
per
Sale
Sold out
Putting rose quartz near your home's entrance can also create a welcome ambiance, inviting love and positive energy into your living area. A rose quartz tumble stone bowl or a quartz tree can be a lovely decoration for your entryway.
Rose quartz can help relieve stress, enhance emotional well-being, and encourage creativity when placed in the workspace. Put a tiny piece on your desk or use it to create a stylish arrangement in your office.
Cleansing and Charging of Rose Quartz Stone
It will help if you cleanse it frequently to guarantee that your Rose Quartz's energetic potency is maintained. What happens after you successfully cleanse your crystal and eliminate residual negativity? How can you charge your Rose Quartz to optimize its calming qualities and bring balance and harmony to your relationships? To keep your beloved rose quartz functioning at its best, we will go through the why and how to cleanse and charge it in this topic. That's why we have created this comprehensive guide to help you preserve your favorite gemstone's remarkable condition and fully utilize its capacity to encourage serenity and stability in all spheres of your life. Take advantage of rose quartz that has been rejuvenated to change your vibe right now!
Why Charge and Cleanse Rose Quartz Crystal
Maintaining Energetic Purity
Like other crystals, rose quartz takes in and stores energy from its environment. The stone may gather scars or negative energy over time, which could diminish its ability to cure. Frequent cleansing eliminates these undesirable energies, maintaining your rose quartz's energetic purity and best performance.
Enhancing Healing Properties
After cleansing, charging your Rose Quartz helps to restore and enhance its natural abilities. A charged stone enables you to reach your most potent potential by encouraging emotional healing, self-love, and compassion. Rose quartz jewelry and home decor items continuously charged with good energy enhance your well-being and spiritual development.
Strengthening Personal Connection
By cleansing and charging, you can develop a closer relationship with your rose quartz crystal and better understand its energy.
Your ability to tune into your crystal's unique vibrations and use its healing power increases as you establish a routine for taking care of it. The efficiency of your rose quartz is increased by this concrete personal connection, which also benefits your entire spiritual development.
Supporting Intention Setting
Any remaining energy from earlier intentions can be cleared by cleansing and charging your rose quartz, enabling you to set fresh, targeted intentions with the crystal. Keeping a crystal clean and charged creates a blank slate to achieve your goals and objectives. This procedure allows you to fully utilize your rose quartz benefits, focusing its energy on particular objectives and improving its overall influence on your life.
How to Cleanse Rose Quartz Crystal
Running water
Hold your Rose Quartz under lukewarm running water for a few minutes to remove any potentially absorbed lousy energy. After cleaning the crystal, dry it with a delicate cloth and ensure the water pressure is light.
Smudging
Cleanse your rose quartz with a sage bundle or some incense. Pass the crystal through the smoke many times while imagining the ill energies being removed while you light the smudge stick or incense.
Sound healing
Use a Tibetan singing bowl to cleanse your Rose Quartz. The sound's vibrations can help remove any negative energies attached to the crystal. Hold the crystal close to the singing bowl and allow the vibrations to wash over it for several minutes.
How to Charge Rose Quartz Crystal
Moonlight
Charge your Rose Quartz by placing it under the moonlight, especially during a full moon. The moon's energy can help to recharge and amplify the crystal's properties. Leave the crystal outside or on a windowsill overnight, then bring it inside the following day.
Sunlight
Expose your Rose Quartz to sunlight for a few hours to recharge its energy. However, be cautious not to leave the crystal in direct sunlight for extended periods, as it may cause the color to fade. A few hours of the morning or late afternoon sunlight is ideal.
Earth
Bury your rose quartz in the earth or place it on the ground outdoors for several hours. This method allows the crystal to absorb the earth's grounding and revitalizing energy, recharging it for future use.
Final Thought
Rose Quartz is an exceptional stone with many benefits and properties, making it a vital addition to your crystal collection. This captivating crystal is an effective instrument for personal transformation because of its deep affinity with the heart chakra, its symbolism of love and compassion, its capacity for emotional healing, its support for spiritual development, and its positive effects on physical health. Whether through jewelry, meditation or as a lovely addition to your home, warmly welcome this stone to discover its magic. You'll learn the depths of self-love and emotional well-being waiting for you as you set off on your trip with rose quartz. Use rose quartz to lead you to self-awareness, deeper connections, and more peaceful life. Accept the chance for personal exploration and progress.
FAQ
What is rose quartz?
Rose quartz is a pink variety of quartz, a mineral composed of silicon dioxide. Its beautiful pink color derives from trace amounts of titanium, iron, or manganese. Known as the stone of love, rose quartz is highly sought after for its gentle and soothing energy.
Where is rose quartz found?
Rose quartz is found in various locations around the world. Some notable sources include Brazil, Madagascar, South Africa, India, and the United States (specifically in Maine and South Dakota). These regions are known for producing high-quality rose quartz crystals.
What are the metaphysical properties of rose quartz?
Rose quartz is commonly associated with love, compassion, and emotional healing. It is believed to open the heart chakra, promoting self-love, forgiveness, and deep connections with others. Many people use rose quartz to attract love, foster harmony in relationships, and enhance feelings of inner peace and tranquility.
How can I use rose quartz crystals in my daily life?
There are various ways to incorporate rose quartz crystals into your daily routine. You can wear rose quartz jewelry such as necklaces, pendants, or bracelets, allowing the crystal to stay near your heart. Placing rose quartz crystals in your living space or bedroom can create a loving and harmonious atmosphere. You can also use rose quartz during meditation by holding it in your hand or placing it on your heart chakra to enhance feelings of love and compassion.
Can rose quartz helps with self-love and healing?
Yes, rose quartz is often used to support self-love and emotional healing. It can assist in healing past emotional wounds, promoting forgiveness, and encouraging self-acceptance. By working with rose quartz, individuals may experience a more profound sense of self-worth, increased self-confidence, and a greater capacity to give and receive love.
Can rose quartz attract romantic love?
While rose quartz is commonly associated with attracting love, it is essential to remember that it is not a magical solution or guarantee for finding romantic love. Rose quartz can help open your heart to love, increase your capacity for love, and attract loving energy into your life. It is best used with personal growth, self-care, and actively seeking healthy relationships.
How do I cleanse and recharge my rose quartz crystal?
To cleanse your rose quartz crystal, rinse it under running water, place it in a bowl of saltwater for a few hours, or smudge it with sage or palo santo. Recharging rose quartz can be done by placing it in moonlight or sunlight for a few hours or burying it in the earth for a day or two. Trust your intuition and choose a cleansing and recharging method that resonates with you.
Can I combine rose quartz with other crystals?
Absolutely! Combining crystals is a common practice in crystal healing. Rose quartz can be combined with other crystals, such as clear quartz, amethyst, or citrine, to enhance or complement their energies. Researching and understanding each crystal's properties before combining them to ensure they work synergistically is essential.
Are there any precautions to take while using rose quartz?
Rose quartz is generally safe to use but can be sensitive to prolonged exposure to direct sunlight, which may cause it to fade over time. Additionally, some individuals may experience heightened emotions when working with rose quartz due to its heart-opening properties. It's essential to approach rose quartz with an open and grounded mindset, allowing yourself to process emotions in a healthy and balanced way.
Can rose quartz help with physical ailments?
Rose quartz is primarily associated with emotional and spiritual healing rather than physical healing. While it may indirectly support well-being by promoting relaxation and emotional balance, it is not a substitute for professional medical advice or treatment. If you have physical health concerns, it's essential to consult with a healthcare professional.
What does it mean if someone gives you rose quartz?
If someone gives you rose quartz as a gift, it often symbolizes love, friendship, and caring. It is seen as a gesture of affection and a way to express their feelings towards you. Rose quartz is also known to carry the energy of compassion and healing, so receiving it as a gift may indicate that the person wants to support your emotional well-being and nurture your relationships.
Who should wear rose quartz?
Rose quartz can be worn by anyone who resonates with its energy and desires to enhance feelings of love, compassion, and emotional healing. It is particularly beneficial for individuals seeking to attract or strengthen romantic relationships, foster self-love and self-acceptance, and promote harmonious connections. Whether you wear it as jewelry or carry it in your pocket, wearing rose quartz allows you to benefit from its loving energy throughout the day.